Mew Forms
Mew Forms are the transformations of girls whose DNA is accepting of and has been merged with that of an animal. A Mew form is the typical magical girl with a flashy costume and special weapons and powers. Mew forms can also be morphed or merged and through that, changed (for example the Mew Crystal upgrades in Emerald Mew Mew.)
See also:
Costume and Changes
When a girl is in her mew form, a variety of things will change about her appearance.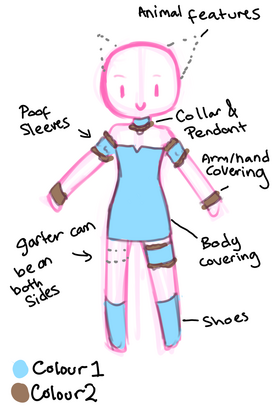 The most noticeable difference is the appearance of animal features due to the injected animal DNA. Most commonly, these features appear as ears, tails and wings, however other features can also appear.
Secondly, their hair and eye colour are likely to change. This can change to a lighter version of their original hair/eye colour or a completely different colour which matched their uniform. In Fanon, the colour changes vary wildly depending on the creator, though the general idea is they stick to the aforementioned rules.
Third, the costume. The mew costume can vary again, and comes in all shapes and forms. The general rules are that the costume should cover the body and have a vertical striped pattern with puff sleeves, a choker, a pendant, a garter, arm coverings and shoes. However there are many different variations that are available, and many designs ignore certain aspects of the uniform.
Lastly, the colour scheme of the costume and hair. Usually mews have two colours, but wider colour pallets are accepted. The main colour will usually be the majority of the design, and the secondary colour will be the accents and fluffs on the design. However with wider colour schemes and more detailed designs, the colours can be anywhere as well as there being more than two colours in the pallet - it's often common in fanon for there to be three or more colours involved in the design. Furthermore, the colours are usually analogue to each other or simply shades of the same colour, though there is no restrictions on the colours picked.
List of Species by User
Keep in mind some species are NOT really endangered.
Please add your character's species! There will be multiple characters for some species. If a Mew's name doesn't have a link it means the page doesn't exist or that the link has not been found yet. Please help by adding links if you find them as pages are created and broken links redirected. If a link to a Mew's page has not been found after a certain amount of time, their name will be deleted from the list, but if the page if found at any time feel free to add them again.
Canon
Mission Blue Butterfly - Mew Amber
Blue-eyed Darner - Mew Something.
Himalayan Wolf - Mew Mikaela
Other
World Wide Mew Mew
Mew Trio
Princess Mew Mews
Keystone Mew Mews
Bon Vivant Mew Mew
Other
Great Hopping Mouse
Big-eared Hopping Mouse
Blue-grey Mouse
Darling Downs Hopping Mouse
Goulds Mouse
Long-tailed Hopping Mouse
Short-tailed Hopping Mouse
Eurasian Harvest Mouse
Dusky Hopping Mouse
Camiguin Forest Mouse
Country Mouse
Little Native Mouse
Matthey's Mouse
Moon Striped Mouse
Smoky Mouse
Striped Grass Mouse
Desert Pygmy Mouse
Perdido Key Beach Mouse
Salt Marsh Harvest Mouse
Hastings River Mouse
Alabama Beach Mouse
House Mouse
Other
TMMR & NK4
Spotted Dolphin - Tiana Yuki
Pending Scorpion 
Pending Snake 
Pending Kangaroo 
Note that these Mew Mews are infused with endangered flower DNA as well as animals
Jamaican Flower Bat/wood lily - Mew Garlic
Amur Tiger/thorny popolo - Mew Apricot
Mississippi Valley Wolf/spotted ladysthumb - Mew Chestnut
Ili Pika/alkalai buttercup - Mew Ginger
Palmer's Chipmunk/rosepink - Mew Toffee
Note that these Mews are infused with food DNA as well as animals.
White Tail Doe / Mandarin Orange - Mew Lollipop
Sugar Glider / Mint - Mew Gumdrop
Raccon / Poprocks / Spright (Soda) - Mew Fizz
Blue Morpho Butterfly / Berrys and berry juice - Mew BonBon
Unsorted
Happy Sweet Mews
Inmates and Aquatic Mew Mews
Household Mew Mews
Shinsengumi Mew Mews
Akatsuki Mew Mew
Country Mew Mews