Come one, come all, to the strangest contest this Wiki has ever seen!
I have devised a Design-A-Mew contest that I'm sure you guys will love, if you can handle the challenge! *insert evil laugh here*
All set up and ready to go for those who'd like to enter!
Info-mation!
In this contest, each round will be different. Yes, some will be Christmas themed. Each of you will use a selected character to design an outfit fitting to a theme, whoever can best represent the theme is the winner! Simple, eh? Not quite! Every so often, there will be a bonus round, where each of you be given a different theme, and will use one of your OWN characters, to gain bonus points! But I must warn you, these bonus rounds just may be the craziest things you've ever seen!
Rules
You're not allowed to use T-shirt/Jeans/Socks combos. That's just not much fun.
Be sure to design your outfit in keeping with the theme!
Put thought into your design, you are being judged on your design so you'll want it to look good!
I don't wanna see crazy rainbows spewed all over the character.
I will be providing a base. However, you can draw it yourself if you so please!
Feel free to use any program you like, but be sure to save it as a PNG if you can! They give the best quality!
You are not allowed to steal designs from others. You guys are awesome enough, you don't need to copy!
You must design APPROPRIATELY for the character! Keep in mind the modesty rules please!
Prizes!
Yes, I am shtealing your prize set-up Dessie~
You can get your prize for a round you win OR you can save your prize points for a bigger one later. 1st place gets 3 prize points, 2nd place gets 2, 3rd place gets 1 prize point. Highest prize is worth 9 prize points. It's kind of like shoppping, if you have 10 prize points you can request the highest available prize or you can split it down for other prizes. I'll start drawing prizes after New Years, depending on how long the contest goes for.
A chibi of a mew for 1 prize point
A black and white* image of a Mew for 3 prize points
For 5 prize points you get a colored image of a Mew without a background in a basic pose.
For 7 you get Two Mews in a colored image without a background in a static pose.
For 9 points you can get a colored picture of three Mews posed all together, or a special cartoon styled picture of FOUR Mews!
(Black and white like in Manga, not just a sketch)
Round 1: Niku (CLOSED)
For our first round, we shall be working with my favorite Goat-girl, Niku!
Niku
Theme Color: Tawnyish beigish fawnish... (#CCB77F)
Design Theme: Vikings
Modesty: Shoulders must be covered, shins and knees can be bared.
Required Color of the Day:
#00A854, or Red, Green, Blue: 0, 168, 84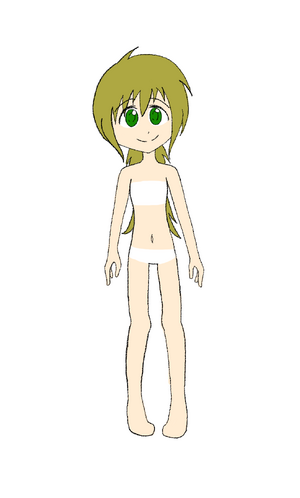 Niku is a young wild child type girl. She's generally unkempt and messy, and bold as brass. She's also quite short, and very skinny. Bonus point to any who include the following:
Go ahead, add all three if you want!
I want to see her look the part, I don't want her to look like she's just playing dress up in old ratty furs. It's gotta be cute, but not so sugary sweet. These are vikings people. Oh yes, and no Viking Princess outfits, I will hit you.
The deadline is now extended until SATURDAY. Go to, my friends!
Entries
Winners, and point totals
Lucky
Congratz Ellie, you've managed to wow me with a simply marvelous design for my little fuzzy goat. I must say, it was a hard choice between you and Grace! While you didn't make use of horns or spikes as you'd see on your classic pillage and plunder Viking, you did manage to create a cute little outfit, fitting with her personality. The use of a creamier color certainly compliments the overall relaxed feel of the outfit. This really is something casual that she could wear, day to day, exploring the hills and fields. Your design was simple and cozy-like, had a very homey feeling. Well done Ellie, well done!
2. Destiney
The thing I loved most about your entry was the furry vest and the boots. They reminded me most of goats, especially the dark colored toes. Hooves maybe? You certainly went after that typical Viking warrior feel, she looks like she could really have a lot of fun in that. The cape was certainly unexpected, but you pulled it off without making it look super hero-ish. The darker color of the tunic/dress/thingy contrasted quite nicely with the light gray fur, and the toasty colored cuffs and belt just tie the whole thing together. Very nice!
3. Liqourice
Well, you certainly went all out on this one! Is that an axe I see? The colors went quite nicely together, with the green and the brown of the shirt and boots. Yours was definitely more modern looking than the other two, with differing sleeve lengths and golden cufflets. What I liked best about your design was the stripey scarf, you have no idea how much I luuuuv stripey scarves. Good work!
Point Standings:
Well done my friends, points all around!
Lucky - 4
Destiney - 3
Liqourice - 2
Round 2: Zaniha (Opening Tuesday)
I'll announce it as soon as I get the base up!
Ad blocker interference detected!
Wikia is a free-to-use site that makes money from advertising. We have a modified experience for viewers using ad blockers

Wikia is not accessible if you've made further modifications. Remove the custom ad blocker rule(s) and the page will load as expected.