This is the page for Homura's Christmas Design contest!
Basic Information
In this contest, you're going to have to design Christmas styled clothing. Yes, it's only November but because of the nature of the contest I'm starting it EARLY! So it's going to go in rounds, you get eight days from the day I start a round to make an entry.
Rules
You're not allowed to use T-shirt/jeans/socks combos. I'm not saying you're not allowed to use pants because I know one of them is probably going to have them, but yeah.
It's a Christmas design contest. You have to make it look Christmas-y!
Put thought into your design, you are being judged on your design so you'll want it to look good!
You are not to use crazy colors schemes like neon rainbows. Period.
You're not going to be forced to use the given base. But, please use it as an anatomy reference and color sheet at least!
You can use any program you want! Photoshop, Sai, Paint, Corel, Sketchpad, I really don't care what you use.
You are not permitted to steal designs from other entries. You don't even need to steal designs because I know you guys all are capable of making an awesome original design.
Please DESIGN APPROPRIATELY FOR THE CHARACTER! I don't want to see Destiney in a Santa girl costume or Thirza as an Angel!
Prizes
You can get your prize for a round you win OR you can save your prize points for a bigger one later. 1st place gets 3 prize points, 2nd place gets 2, 3rd place gets 1 prize point. Highest prize is worth 9 prize points. It's kind of like shoppping, if you have 10 prize points you can request the highest available prize or you can split it down for other prizes. There's four rounds so highest point total is 12. I'll start drawing prizes after Christmas during my break.
A sketch of a Mew for 1 prize point
A flat colored image ref of a Mew for 3 prize points
For 5 prize points you get a fully colored image of a Mew without a background in a basic pose.
For 7 you get two Mews in a fully colored image without a background in a static pose.
For 9 points You get a picture of a Mew in an action/motion pose or a picture of three of your Mews with a background, fully colored.
Round 1: Destiney (CLOSED)
Yes, for those of you who saw it coming; the first round you have to design Destiney!
Destiney
Theme Color: Blue
Design Theme: Christmas Caroling
Modesty: Uncovered shoulders allowed
Mystery Hex Triplet/RGB:
#89CFF0 or Red, Green, Blue: 137, 207, 240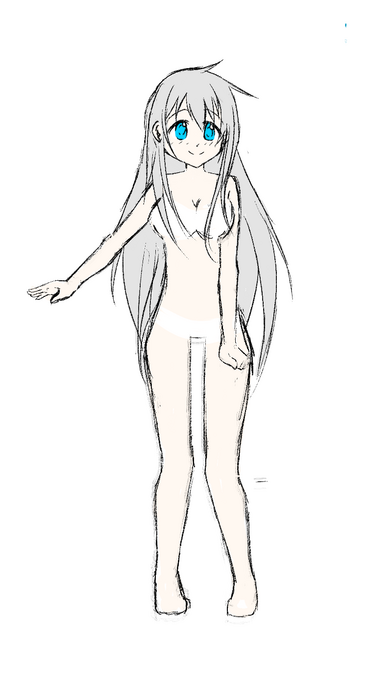 Destiney is one of the girlier characters, and the softest when it comes to anatomy. Plus she's really short, like, 4'11" short. You get a bonus point for including one of the following:
Or you can add all three but you still get only one bonus point.
I do not want to see a design that makes her look like Juvia Lockser (Few will get this reference unless you look her up). Destiney's designs are usually cute so try to make it cute.
I'll be gone this weekend so I won't be around to check for entries. Please just leave them in a gallery below and I'll check them when I get back! Good luck everyone!
Entries
Round Winners (Destiney) And Current Prize Point Total
Lucky
I really came to like your design when I first saw it! One thing that realy struck me (And I don't know if this was intentional or not) was that you avoided the use of the color BLACK, and used all white. It doesn't just look good with her, it reflects her innocent personality. I really liked the little shoulder drape with the pattern and snow-flake on it, it was a really cute addition.
2. Shiny_Re
One thing I liked about your design was that you used a coat and a hat that didn't involve the theme colors (Except for that cute ribbon!). Another thing I noticed was that the dress underneath the coat puffed out a bit, like it was one of those fuller skirts with all of the frilled underneat the top layer of fabric (I have a thing for those... Ehe...). Lastly. You're one of the only designs that didn't use pom-poms, which gave it a bit more of a mature feel.
3. Libby
It was a really tough choice for whether it was going to be you or Kat in the winners, but I had to go with yours. Why; you incorporated things about her character that weren't Christmasy into your design. I really liked that, and I didn't think that someone was going to do something like that! Plus, you're the only one who took advantage of the modesty rule. It's not like she's not going to bring a coat with her (I'm not sure if Destiney's the type to get cold easily or not, I think so.), but I really liked your design!
Point Standings:
Everyone who used one of the bonus point objects get's one point anyways. You can shop with your points now or save up for later!
Lucky - 4
Shiny_re - 3
Libby - 2
Kat - 1
Kaizu - 1
IchigoOnnechan - 1
Round 2: Thirza (Closing 7:00 EST)
You just can't have one twin without the other, it just doesn't work that way.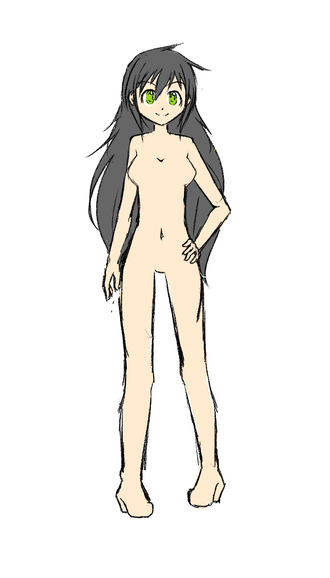 Thirza
Theme Color: Green
Design Theme: Reindeer
Modesty: Uncovered Shoulders, legs can be bared.
Mystery Hex Triplet: #882D17 (This does NOT have to be the main color, just make sure you work with it!)
Thirza is pretty much one of the most tomboyish characters in Emerald Mew Mew, so she tends to avoid frilly things. Try to avoid ribbons, lace, or glitter. Her build is about the same as Destiney's, except she's TALLER; by 4-5 inches.
There's no clichés allowed for this round, that means no flashy noses and full blown reindeer suits. Try to make whatever you put her in keep with the theme, just don't over-do it.
Bonus Point Additions:
Bells
Earmuffs (Or Antlers)
If you can keep the design tomboyish without using PANTS. This is optional and you only have to do one of these, but I would love to see who would try this one.
Good Luck Everyone!
Entries
Winners
Kat
You were easily the winner for this round. Thirza is not my character, yes, however for this contest I believe your design was the best. You made the look tomboyish and yet you made use of a skirt. The vest with the sweater are a well done combination, and they look well with the boots you designed. It makes me think of something Heina would throw on her and Thirza would halfway throw off. Well done.
2. Thirza
Your design is very relaxed looking, good for amusement and it seems as though Thirza would throw this on for a Christmas celebration. The homemade hat is a good craft that would be a joy to create out of felt and fuzz. Your antlers were the best drawn, I have to admit, and the shoes are amusing and very reindeer like. Yours is full of Christmas spirit, well done.
3. Lucky
Your design was the most tomboyish and sensible for the winter season. The bell decorated belt was a very reindeer like touch, reminding me of reigns or harnesses. All of the colors coordinated and the jacket somehow makes me think she's about to go out and hunt. Well done.
Point Totals
Lucky - 6
Shiny_re - 3
Libby - 5
Kat - 5
Kaizu - 2
Ichigoonnechan - 2
Round Three: Heina (Closed)
Opening this a bit early because I'm being a bit eager to start.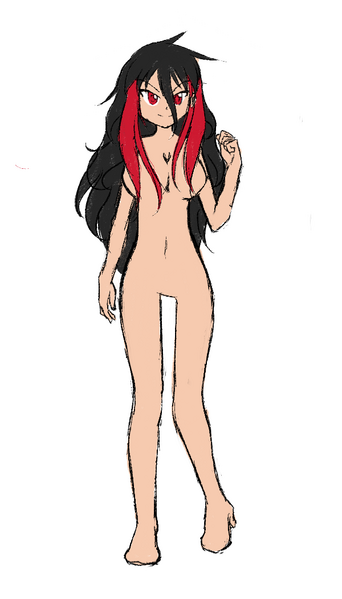 Heina
Theme Color: Red
Design Theme: Holiday Girl/Santa Girl
Modesty: If it's showing more than the bikini you would see Zakuro wear in the anime, it's not allowed. Otherwise, go nuts.
Mystery Hex Triplet: #B22222
A little to know about Heina, it's alright to dress her in a red mini dress with thigh lengh socks and boots as long as it isn't cliche and makes her look like a Seductive Santa. BUT, Heina is a closet romantic. (Closet Romantic: Has a romantic side to them or enjoys romance deep down but doesn't openly express it. Often makes it seem the opposite.) REALLY try to design according to her personality. Of course the seductive glare on the base isn't really going to help... Ehe...
A big apology if her bust size gives her trouble. Please don't resize, thank you.
Bonus Point Additions:
Pointsetta
White Fuzz/Fur trim.
A choker of some sort (Cannot just be a band around her neck, make it interesting!)

Let probably the most diverse round begin!
Winners (Annouced)
Libby
A well done design that doesn't necessarily scream 'Look at me!', the different hair-do was an interesting add. I enjoyed the way the dress had a split on the on leg, and the shoes were an interesting design. The way the pointsetta flower was used was a interesting touch and the shoes are very interestingly designed. Well done.
2. Lucky
Your design was one of the best, the use of black lace around her ankles and lining her choker was one of my favorite additions. The jacket was a detail of the outfit I would have not thought of, it's an interesting addition and it looks well on Heina. The dress as a whole seems interesting, with how its sleeves ring around her middle finger and the skirt reaches down to her knees. It was a well done job.
3. Kai
Your design was as well, among the best. I like the diamond choker that you design and the crown of holly on her head. The design of the dress is something Heina would wear, and the belt around her waist was an interesting addition. I also very much enjoyed the white arm gloves, and the way you had designed the boots. Well done.
Point Totals:
Lucky - 9
Shiny_re - 3
Libby - 9
Kat - 5
Kaizu - 5
Ichigoonnechan - 3
Tia - 1
Entries
Round Four: Aki (Closed)
Finally, we have our favorite little psychopath *ahem* hyper kid, Aki!
Aki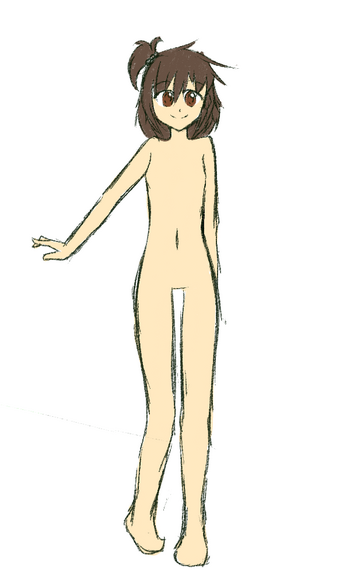 Theme Color
: Brown & Mint Green (And mint green only)
Design Theme: Elves.
Modesty: Shorts Allowed.
Mystery Hex triplet: #AAF0D1 (If you cannot use a digital program and find out what the color is, Look up the hex triplet in Google! I'm not going to qualify entries if they don't use the color!)
Aki is that character that's the oddball, in a good way. I want to see an elf costume that's fitting for her! If I catch you designing something that resembles the elves from Rudolph I will not qualify you! Aki also moves a lot because she has ADHD, so try not to design anything skin tight that would force her into doing the penguin walk.
Bonus Point Additions:
A stripe of some sort
An anklet or a bracelet
If you can work around the girlish pony-tail.

Good luck!
Entries
Winners
 Lucky
Libby
Kat

Point Totals
Lucky - 13
Shiny_re - 3
Libby - 12
Kat - 7
Kaizu - 6
Ichigoonnechan - 4
Tia - 1
PLEASE COMMENT ON THE PAGE WITH YOUR PRIZES. Just because I can't do too much, you're limited to asking for two different prizes. I hope you guys had fun, Merry Christmas!
In case you guys are interested, my next contest is coming in April/March, 2013. Yes, we will all be alive then.