Anti-Animal Human Agency is a  Animal Human Hunt Organization are the Group of Human a Animal Human Control Group is Created by the Government Agent They are the Human Villains
They are the Mercenary Soldier and Special Ops Soldiers Mission to Hunt,Capture and Kill the  Mew Mew with Guns,Net,Net Gun and Weapon By Dr. Koashi Who is the Military Scientist and They are the Enemies of Mew Mew Also They Have Troopers Like  Mercenary Soldier,Special Ops Soldier,Armored Soldier and Robot Drone Catcher to Hunt Down/Capture and Kill All Mew Mew, Because Mew Mew are the Animal Human,But the Military Scientist Studied About the Animal DNA Inner of the Human Dna,Military Scientist are the Humans.
The Batmoc and His Man Capture Ryou Shirogane,Keiichiro Akasaka and Masaya Aoyama and They Confiscated the DNA Gun,Ryou Shirogane,Keiichiro Akasaka and Masaya Aoyama are Captured By Agent Batmoc and His Henchmen.
The Government Agent and Military Special Ops Close Down
Café Mew Mew
.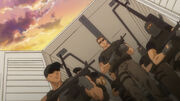 Notifications in the Door and They Put 3 Them Away to Prison Including the Mew Mew Girls Inisde the Prison Cage at
the Headquarter,They Guard This Headquarter with a Security Guard Holding with a Guns and Agent Holding with a Guns.
Memebers!!!!!
Dr.KoKashi - Military Scientist/Government Agent -
He Wants to Create a Military Robot Drone to Capture Mew Mew and Her Friends and Other Animal Human with a Net  and Putting Them in the Cage and Sending the Mercenary Soldier and Special Soldier to Hunt Down/Capture and Kill the Mew Mew.
Agent  Batmoc - Agent/Special Ops Soldier -
He is One of the Leader of Agent Mercenary He is a Member of A.A.H.A
He is on a Mission to Capture the Mew Mew the Animal Human Send by Dr. Koashi.
Sergeant Hinojo - Special Ops Soldier -
Major Akira - Special Ops Soldiers.-
General Shijo - Special Ops Soldier -
Agent Kusanagi -
Other Anti Animal Human Agency Memeber!!!!
Vehicle
2. Bell UH-1
3. OH-6D
4.M1114 Humvee
5. HMMWV (with Net Gun)
8.Toyota High Mobility Vehicle (Anti Animal Human Cage Truck)
9. Mecha Robot Drone Catcher
10.M1114
Items,Guns and Weapons!!!!!
Mateba 2008M
Beretta 92FS Compact
Desert Eagle
MAC-11
Type 89-F with M203
Colt Model 933 with M203
R93 LRS2 Blaser
M60
M4A1 Carbine 
Net
Net Gun
Taser Gun
Animal Human Dectector Device
Heckler & Koch MP5K
Mk. 18 Mod 0
M24 Sniper Rifle
Handcuff
Ad blocker interference detected!
Wikia is a free-to-use site that makes money from advertising. We have a modified experience for viewers using ad blockers

Wikia is not accessible if you've made further modifications. Remove the custom ad blocker rule(s) and the page will load as expected.