Ame ni inori AKA Mew silence is the third mew in sailor sonata's new fanfic Tokyo jewel mew: flesh stones of victory.
Personality and appearance
Ame is the most calm and mature of the mews, she has blue eyes and red hair, she always dresses in white her flesh stone's colour.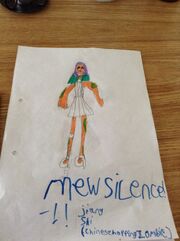 ==Mew silence==
She was infused with the DNA of a Jiang shi (Chinese hopping zombie), her outfit is modelled after the mermaid melody character yellow pearl voice's outfit, but in white, her choker is where her flesh stone hangs.
her transformation line: "flesh of silence! Transform!"
trivia
~ her name means a prayer to the rain
~ she is the first mew to have a personality similar to her name as a mew.
~ she is the only mew so far to have little changes to her appearance in her mew form.
~ Ame secretly supports the ai kotoba and pai pairing (reminder: he has a crush on her, check ai's page for more info)
relationships
(Ame doesn't know her family so it's just the team and such)
The team
She is best friends with all and don't seem to mind rikku's childish personality she hopes to do her best to help her team when it comes to the "final battle"

Tokyo mew mews and the aliens
Both the aliens and the Tokyo mew mews adore Ame and often seek her out for advice or an opinion on something.

Saphir and underlings
She despises him and wants to stop him from taking control of the earth.
Ad blocker interference detected!
Wikia is a free-to-use site that makes money from advertising. We have a modified experience for viewers using ad blockers

Wikia is not accessible if you've made further modifications. Remove the custom ad blocker rule(s) and the page will load as expected.